Name: Catherine Campbell
Hometown: Carlisle, PA
High School: Trinity High School
College: Dickinson College
Occupation: Student, University of Pennsylvania School of Dental Medicine (3rd year) & Graduate School of Education (GSE) Candidate
Personal Bests: 3k – 10:06; 5k – 17:08; 8k Road – 28:47; 10k – 35:38; 10 mile – 1:01.46; Half Marathon – 1:22:53
Career Highlights: 5k All-American – 2012 Indoor Track and Field
By: Jamie Morgenstern
Can you tell us a little about yourself and your running history?
My parents were always very enthusiastic about having my two younger sisters and me enrolled in various sports when we were little. I was that awkwardly tall middle schooler who was afraid of the soccer ball and too uncoordinated to do anything on the basketball court except wait under the net and hope my height would somehow get the ball into the basket. Whether it was gymnastics, soccer, basketball or gym class my sister Kerry and I (only 14 months apart) loved warm-ups and cool-downs! Seriously, what kid loves to just…run? Well, it is all history from there. Middle school track let to high school track and XC, and the collegiate running at Dickinson College!
What brings you to Philadelphia? You were in DC previously. How do Philly and DC compare as cities to run in? Can you recommend any good running routes in DC?
So after graduating from Dickinson College I accepted a job just outside of DC working at the National Institutes of Health (NIH) doing research. It was my first city/urban experience after having lived and attended college in the same city for the previous 22 years. Having just finished my senior track season, I immediately joined the Georgetown Running Club (GRC) and it certainly defined my experience living in DC. I absolutely loved my year there before leaving for Philadelphia to begin Dental School at Penn!
As for the running scene both are great cities! DC has a ton of trails, and most notably for me was Rock Creek Park! You could find met here on almost every morning before work. There is also the Capital Crescent train and a bunch in NOVA as well. Some of the coolest workouts I did with GRC, when our 'home' track was being used by the high school football/lacrosse team (yea… I guess they get first dibs, haha), were on the National Mall with the Washington Monument as the backdrop while the sun set…pretty cool! The adjustment moving to Philly wasn't too hard (minus the school part) and it is great having another awesome team to be affiliated with!
What are your plans and goals for running? Any big races you're aiming for this summer/fall?
Unfortunately, the summer has not gone as planned for me, but it would be great to come back for the Philadelphia Half in Nov and put forth a good effort at breaking the 1:20 mark! I will have to see how the interview schedule evolves as I apply to residency programs, but would love to get in some xc races as well!
How do you manage being a dental student and a runner? Is it hard to get running in? Does running help relieve the stress of student life?
This is a loaded question! Running has definitely served as a stress reliever during dental school, however, I constantly have to remind myself that there is a time and a place for everything in life! I often wish I had the time to pursue my running goals more seriously but that hasn't been the case these past few years…however, I have learned to be ok with that! The silver lining is that I have truly continued to enjoy the sport and have stayed in baseline shape so I can hopefully go after it when that next big goal is determined! It is certainly tough getting in runs at times and I recall many 10 or 11 pm runs around Penn Park during my first and second years in dental school. It has been so wonderful seeing PRTC evolve since moving to Philly!
Please, can you relay to us some good dentist jokes?
Haha! Honestly, I don't have too many jokes, but this image is hanging in a few of the offices at school and I always thought it was cute…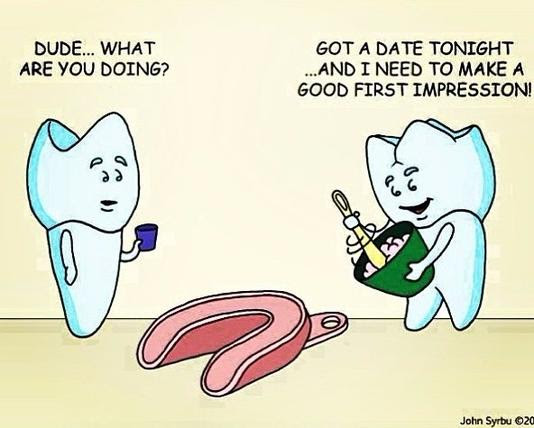 Ok, one more dentist question. Why do dentists always ask you questions with your mouth open? Can you relay to us some good dentist jokes?
Hahaha… this is something I am guilty of as well! I guess we are just trying to be friendly while saving time! Or maybe we just like to hear ourselves talk away.😉
Please share with us any of your favorite quotes or pieces of advice as it related to running.
Huge Roger Bannister fan…
"We run, not because we think it is doing us good, but because we enjoy it and cannot help ourselves… The more restricted our society and work become, the more necessary it will be to find some outlet for this craving for freedom. No one can say, 'You must not run faster than this, or jump higher than that.' The human spirit is indomitable.'