Valley Forge Rev Run 5 Miler
PRTC is in the midst of a tight contest in the Grand Prix Challenge. We currently hold a slim advantage over Pike Creek Valley Running Club. The third race in the series is approaching quickly and registration is open. We hope everyone is able to join us at the Valley Forge Revolutionary Run 5 Miler on April 23rd (8:30 AM).
This race is well-placed as a final Broad Street tune up and it's always fun to visit the historical Valley Forge Park. Importantly, a $10 post-race brunch at McKenzie's Brew House is offered to all runners.
Note: Today is the last day of registration for a guaranteed t-shirt. Sign up 
here
!
Race Results
Club members competed in no less than 4 races this past weekend! Here are just a few highlights:
Paul won coveted Phillies tickets (he's a Phanatic…) and an autographed Louisville Slugger (no word on which player yet) for his first place finish and Nabil took 2 seconds off his 5k PR at the Phillies Charity 5k.
Chris Mateer stepped on the track to get a 10k in for some great Broad Street prep work at Widener's Danny Curran Invitational. Chris Naimoli, of Bryn Mawr Running Co., competed here as well. He impressed in the 5k with a 15:18!
We were well represented at the Hot Chocolate 15k on West River Drive. Sean Clark showed continued strength as he placed 2nd overall with a time of 49:12.  Sam took home the gold(en ticket) with her first place result (and of course some chocolate). Kylie joined on the podium with her 2nd place finish and Dynise marked another 2017 PR (by 1:30!) and took 2nd in her age group.
In Washington D.C., Catherine and Jamie took on the city's classic 10 mile Cherry Blossom race with good results. This is an early preview of the 10 mile distance for both as they're each registered for Broad St. Both landed just around the hour mark with Catherine at 1:00:58 and Jamie crossing the line in 1:01:39. Each placed well and we hoped enjoyed the Cherry Blossoms!
Phillies Charity 5k
Paul Matuszak: 15:36 (1st)
Nabil Hashmi: 18:28 (11th)
Danny Curran Invite
Chris Mateer: 32:34 (10k)
Chris Naimoli: 15:18 (5k) *Bryn Mawr*
Hot Chocolate 15k
Sean Clark: 49:12 (2nd place)
Sam Roecker: 53:39 (1st female)
Kylie Pearse: 58:14 (2nd female)
Dynise Balcavage: 1:08:10 (2nd age group and 1:30 PR)
Cherry Blossom 10 Miler
Catherine Campbell: 1:00:58 (27th female)
Jamie Morgenstern: 1:01:39 (31st female)
Upcoming Runs, Events & Races
Tuesday: Track work at Franklin Field. Meet at 6:15 PM for warm-up or 6:30 PM for workout. Enter through Brysi Cafe. Workout:
Group A: (Submitted by Chris Naimoli) Mile at 4:52; 1200 at 3:36; 800 at 2:20; 400 at 67 followed by another mile at 4:52. Rest: 2:30 after mile and 1200. 2:00 after 800 and 1:30 after 400.
Group B: (Jamie) TBD at track or through email list.
Group C: Alternate at track if desired.
Wednesday: (Paul) "For those interested, I'm running loops around the Lemon Hill road section by Lloyd Hall around 5:45 PM, I'm flexible on the time as long as it's after 5:30 PM if that helps get someone else out. Meet at Lloyd, pace is going to be fast, duration is until everyone's had enough. In an attempt to be more specific, maybe starting around half marathon race pace then dropping down and targeting a run of 30 – 40 minutes?" – Email Paul or Men's list for more info.
Sunday: Long Run: 8:30 AM at Lloyd Hall
Sunday, April 9th
– Run for Clean Air (
Register
)
Monday, April 17th – Boston Marathon
Sunday, April 23rd 
– Valley Forge Revolutionary 5 Mile Run (
Register
)
Thursday, April 27th
 – Penn Relays (Distance Night)
Sunday, May 7th
 – Broad Street 10 Mile Run
Social Media Post of the Week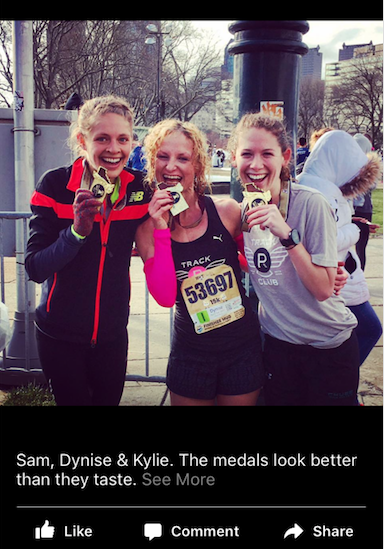 PRTC women celebrate sweet success at the Hot Chocolate 15k in this week's social media feature.