Calling All Boston Marathoners
PRTC is working to put together men's and women's squads for the 
2017 Boston Marathon Team Competition
. It only takes three runners to form a team. Boston distributes awards in this category and it is a great chance for us to compete against other USATF clubs from across the country.
Sean Clark is spearheading this effort and has already signed 3 men to form a team. Please send an email to Sean (
sean00clark@gmail.com
) and let him know if you're racing Boston to join. Up to 15 people can be on a team. The scoring is determined by aggregate time and is divided into male/female and open/masters divisions. There is no extra cost to compete as a member of a team.
Recent Results
Speaking of Sean, he and Bethany Clark ran the 23rd Annual Gupton JEEP Tom King Classic Half Marathon in Nashville, TN this past weekend. The purpose of the trip was a tune up for the Boston Marathon and, undoubtedly, fun in Nashville.
Happily, the trip went well. Bethany scored a nearly 2 minute PR and placed 4th overall with a 1:25.45 result. A very promising sign for Boston in April! Sean also recorded a personal best effort. However, his result came with an unexpected challenge. He reports that at mile 6 the top 5 men in the race were misdirected. This resulted in an extra mile loop rather than a needed 180 degree turn. Fortunately Sean was with a runner who had a GPS watch and he was able to secure accurate splits. He hit 13 in 1:08.10, good for a personal best and a very fast time. At the end of the day, he crossed the finish in 3rd, and recorded 1:14.37 for 14.1 miles. Congrats on a great race weekend Sean and Bethany!
Results
 here.
In other news, Chrissie and Sam trekked over to Ursinus to give back to the sport by way of pacing services. They both volunteered to help NCAA athletes go after national qualifying standards at this last chance track meet. Chrissie helped a runner in the 5k and Sam jumped in the 3k and DMR. We're sure their efforts were appreciated and it sounds like they had a great workout too!
Club T-Shirts
A friendly reminder that PRTC T-Shirts are still for available for sale at Philadelphia Runner's Center City location. We have a number of new runners with us and we encourage everyone to check them out. They're stylish, comfortable and all money earned goes to support expanded club benefits.
Upcoming Runs, Events & Races
Tuesday: Track work at Franklin Field. Meet at 6:15 PM for warm-up or 6:30 PM for workout. Enter through Brysi Cafe. Workout:
Group A: 20 minute tempo followed by 400's or 200's.
Group B: Alternate at track if desired!
Wednesday
: The Paul Workout. Email
paulma2zak@gmail.com
if you'd like to join him at Franklin Field for 400 meter repeats at 70 seconds w/ 90 second recovery. Minimum of 20 reps with a max of 40. No word yet on if
Quentin Cassidy
will be joining him.
Sunday: Long Run: 8:30 AM at Lloyd Hall
Saturday, March 18th – Haddonfield Adrenaline 5k – SOLD OUT
Sunday, April 2nd – Cherry Blossom 10 Miler
Monday, April 17th – Boston Marathon
Wednesday April 31st – Danny Curran Invite at Widener
Sunday, April 23rd – Valley Forge Revolutionary 5 Mile Run
Thursday, April 27th – Penn Relays (Distance Night)
Sunday, May 7th – Broad Street 10 Mile Run
Social Media Post of the Week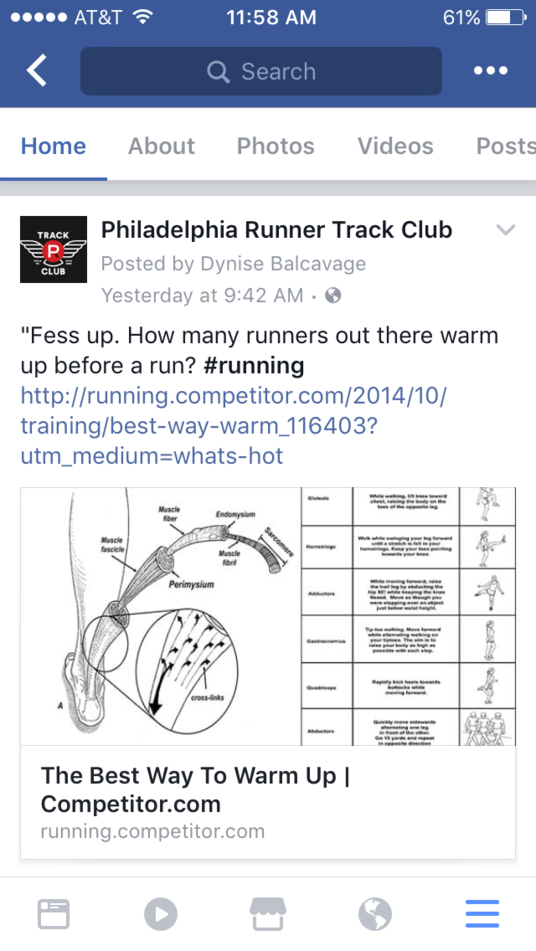 This week's social media post links to an article that teaches us the best way to warm up. Hint: Be dynamic!
Follow us online at the following links: Facebook, Twitter and Instagram. Also join our Strava group and keep an eye on our website for upcoming races and other info. Be sure to tag us in your race and running photos and we'll feature them on our pages!