Housekeeping
Some housekeeping this week. The next season quickly approaches, so it's a good time to think about signing up for upcoming races. Early registration discounts abound and having some dates on the calendar is always good motivation!
First on the Grand Prix this year is the Frostbite Five Miler. Bibs currently cost $35, but they will jump to $40 soon. The race is capped at 1,500 people. We hope everyone can sign up soon so we can all participate and get the discount. Frostbite is a great early season race. It also features a scrumptious post-race buffet. Not one to miss!
On another note, we're working to hand out our NEW men and women's uniforms. We'll aim to distribute to those racing Frostbite first, but are also able to hand out to everyone coming to the workouts and long-runs. For members attending these sessions, let us know what size you'd like and we'll get a uniform to you.
Reminder: It's also a good time to renew USATF/Club membership. Many us lapsed on January 1st and we'll need to get everyone up to date for scoring in the Grand Prix and other events.
__________________________________________________________
Upcoming Runs, Events & Races
Tuesday: Track work at Franklin Field. Meet at 6:15 PM for warm-up or 6:30 PM for workout. Enter through Brysi Cafe. Workout: 1200's (5-7 repeats) or alternative group at track.
Sunday: Long Run: 8:30 AM at Lloyd Hall
Saturday, February 18th – Frostbite 5 Miler – Sign up here!
Saturday, March 18th – Haddonfield Adrenaline 5k – Sign up here!
Sunday, April 2nd – Cherry Blossom 10 Miler
Monday, April 17th – Boston Marathon
Wednesday April 31st – Danny Curran Invite at Widener
Sunday, April 23rd – Valley Forge Revolutionary 5 Mile Run
Thursday, April 27th – Penn Relays (Distance Night)
Sunday, May 7th – Broad Street 10 Mile Run
___________________________________________________________
Social Media Post of the Week
Here's a post to help cheer on anyone struggling through an injury or down-period.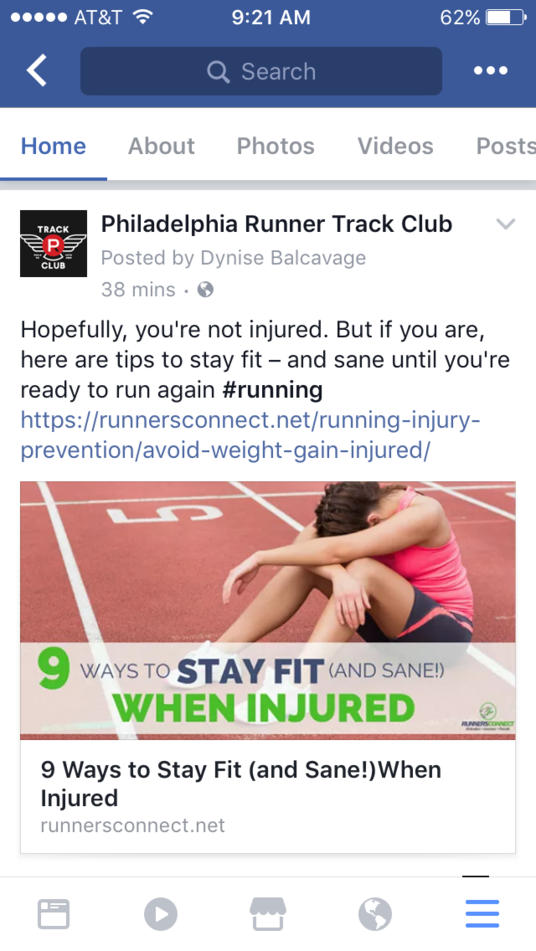 Follow us online at the following links: Facebook, Twitter and Instagram. Also, keep an eye on our website for upcoming races and other info. Be sure to tag us in your race and running photos and we'll feature them on our pages!
_____________________________________________________