Penn Medicine Radnor Run Review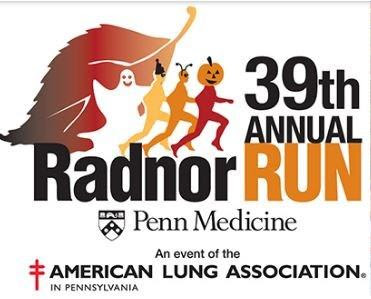 PRTC again took on a Grand Prix challenge race this past Sunday. The Radnor Run kicked off next to the area's palatial township building and participants were immediately subjected to a sizable incline. Many elevation changes followed, but fortunately the weather was perfect, the scenery quality and the race's Halloween iconography endearing so all enjoyed the event.
Mike Vido took home a well-deserved first place after fending off a consistent challenge from the 2nd place finisher for the entirety of the race. He and Kevin Brandon helped pace the race through the first two miles before Kevin fell back to finish 3rd, still, a possible sign of a return to former strength. Will Landis joined for the event as well and managed to win his age group despite a recent week off following the Hershey Half Marathon.
In the women's field, Margaret started the race tucked behind Katie O'Regan of Bryn Mawr (known for her love of hills). Cresting the hill just before the mile, she passed Katie to take the lead and put a commanding distance between herself and the rest of the women's field. Margaret took 1st place for the women and the Vido family once again attracted marvel from race directors as they happily announced the first ever husband/wife win at the 39th annual running of the race.
Jamie, fueled by a month of meals comprised entirely of coffee, manhattans, manchengo and gnocchi, suffered up the hills but pounded the downhills to narrowly miss catching Katie by the last downhill mile to finish 3rd female. Aliah completed USATF scoring for PRTC as well as her second 5 mile race with the club. In a sign of much improved conditioning, she finished the Radnor race in a comparable time to the earlier Valley Forge 5 mile, despite Radnor being a much tougher course. More importantly she reportedly felt much more comfortable racing this time around. Congratulations to all!
Results
Mike Vido: 27:12 (1st)
Kevin Brandon: 27:54 (3rd)
Margaret Vido: 29:18 (1st Female; 6th overall)
Will Landis: 30:05 (7th; 1st in age group)
Jamie Morgenstern: 30:18 (3rd Female; 2nd in age group)
Aliah Molczan: 35:40 (11th Female; 2nd in age group)
Workouts & Upcoming Races
Tuesday
: Franklin Field at 6:15 PM. Enter through Brysi Cafe. Workout starts at 6:30 PM.
Women
: 3×2 mile. First mile will be 10-15 seconds slower than the second on each rep. 
Men:
Same as women or TBD at track. 
Note
: Alternative workouts available through
Penn Running Club
and TBD PRTC groups.
Thursday/Friday: Women: 1200 repeats. Reference women's email list for details.
Sunday: Long Run: 8:30 AM at Lloyd Hall. We also have participants in the Cooper Norcross Run the Bridge (online registration closed) and possibly the USATF East XC Championships. Reference email lists for info about these races.
Sunday, November 6 – Cooper Norcross Run the Bridge *
Sunday, November 6 – USATF East XC Championships
Saturday, November 19 – Rothman Institute 8k / Philly Half Marathon *
Sunday, November 20 – Philadelphia Marathon *
Saturday, December 10 – USATF Club XC (Tallahassee, FL)
* = USATF Grand Prix Race
Bold = Club XC Team Race
Miscellaneous: Join the men's, women's, easy runs or social email list(s) for info about unofficial club runs/meet-ups.
Club T-Shirts
See our below social media highlight for a up-close look at our new t-shirts! Available now at Philadelphia Runner's Center City location! Please stop by and collect your pre-order from the store or try one on for size. We promise they look great!
they look great!
Social Media Post of the Week
Follow us online at the following links: Facebook, Twitter and Instagram. Also, keep an eye on our website for upcoming races and other into. Be sure to tag us in your race and running photos and we'll feature them on our pages!