Global Energy Recap
Last year, Paul Matuszak ran the Global Energy 10k after a client recommended the race. He won and subsequently discovered he was eligible for a pretty fantastic prize: free entry to the following year's race. Okay, maybe not that exciting. Except one thing… Global Energy hosts 35 races all on the same day in various locations around the world. The free entry is to any of their races (Barcelona, Buenos Aires, Beijing, Sao Paolo, etc.) and travel (for two) is all expenses paid! Paul ran this past weekend in Barcelona and was accompanied by his father for the trip. We're sure they had an awesome time, but we'll wait for next week to report on their adventures.
This year Chris Mateer, Kinjal Parikh and Dynise Balcavage all learned of the race and decided to take a shot at it. We're happy to say that PRTC followed up on Paul's success and we have two new winners. The course, reportedly, was way short (5.1 miles rather than 10k) and had some issues with mile markers. The day, however, was great for racing and all three PRTC members enjoyed the event.
Chris was the overall winner with a time of 26:30. He prevailed in what was largely a two-man race between himself and Rider's Anthony Dentino. Chris won by 22 seconds. He's leaning toward Barcelona for next year, but has plenty of time to consider all 35 race locations. Congratulations Chris!
Kinjal was first female in and pleased with her time of 33:42. Kinjal bested 2nd place by 19 seconds. No word yet on where she'll be racing next year, but we're sure it'll be somewhere fun. Nice work, Kinjal!
Dynise claimed 5th overall female finisher and won her age group by a truly incredible margin of nearly 7 minutes. This was achieved despite being sidelined for most of last week with an injury / illness. A very impressive comeback that bodes well for future success!
Click here for all results.
Paul Short Info
Next Saturday is the Paul Short Invitational. Hosted by Lehigh University, this race is well-known for attracting a strong field. We have both men and women attending and definitely encourage anyone interested in XC to sign up for this one. The course is relatively fast and there will be plenty of competition.
Price: $35
When: 10/01/16 (Saturday) at 9:30 AM (Men) and 10:15 AM (Women)
Where: Lehigh University
Registration: Here. Note: Deadline is 09/29/16 at 11:59 PM (or until capacity is met).
Travel: There will be several cars making the trip to Lehigh. Send an email to men's or women's list if you'd like help getting to the race.
Upcoming Workouts
Tuesday: Franklin Field at 6:15 PM. Enter through Brysi Cafe. Workout will start at 6:30 PM. Women: The Roland Tempo. 3 x 2400 with each of the 2400's broken up into three 800 meter sections by pace. 800 at half marathon pace followed by (no break) 800 at ten mile pace followed by (no break) 800 at 10k pace. 2 minute walk/jog between each rep. Men: Workout emphasizing tempo effort followed by 4 x 200. Other: Workouts options also available through Penn Running Club and possible alternative PRTC groups.
Saturday: Paul Short Invitational. Men's 8k starts at 9:30 AM. Women's 6k begins at 10:15 AM.
Sunday: Long run from Lloyd Hall at 8:30 AM.
Miscellaneous: Join the men's, women's, easy runs or social email list(s) for info about unofficial club runs/meetups.
Social Media Post of the Week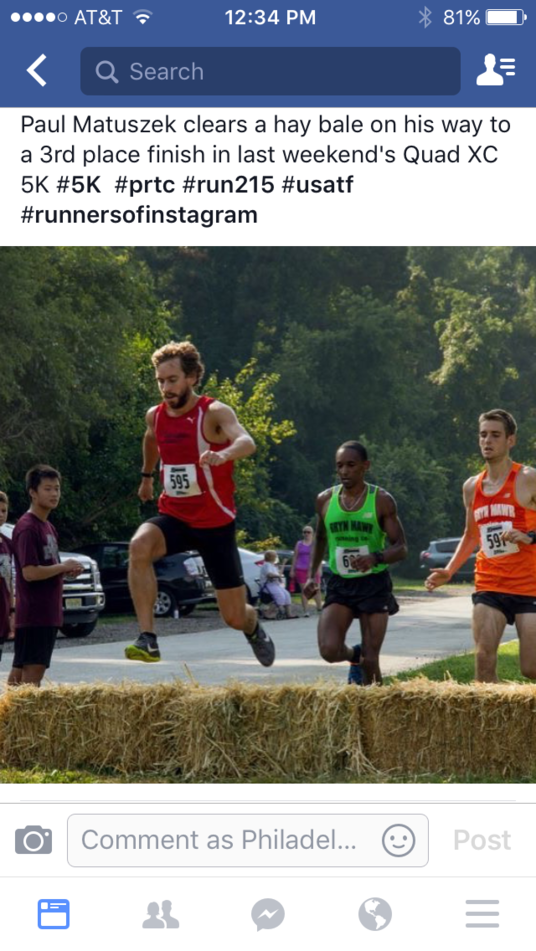 This week's feature is a slightly old post of Paul clearing a hay bale at Quad XC a few weeks ago. Thanks to the race photographer for capturing Paul in action and sharing this great shot!
Not following us on social media yet? Check our our Facebook, Twitter and Instagrampages at the highlighted links! Be sure to send us your race and running photos and we'll feature them on our pages.
Member Spotlight: Returns next week, sorry! If you've received an interview request, please try and respond. Thanks!